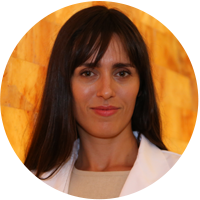 Daniela Turley
Master Herbalist
Daniela Turley is a UK trained medical Herbalist, which is very similar in training to an American naturopath. What brought her to her to herbalism was during her childhood and into her teens she suffered from severe eczema. In those days, it was impossible to find a natural cream to soothe her condition (those creams found in conventional pharmacies irritated her sensitive skin). So as a teenager, she went to the local library to try and make her own cream. During the process, she found books detailing herbal remedies for her condition. Thus began a process of healing that led to her to "curing" her eczema.
Herbal medicine is the oldest form of medicine on the planet. Combined with nutrition, herbal medicine is a safe and effective way to help bring the body back into a state of health. Daniela was so inspired that at fourteen she turned up at the door of a local herbalist asking to be his apprentice. He politely turned her away, pointing her in the direction of the excellent college degrees in herbal medicine that existed in the UK. From there on, she had her goal!
Daniela went on to graduate from the College of Phytotherapy (accredited by the University of Wales) with a BSc. degree in Herbal Medicine. She has been practicing herbal medicine for sixteen years now. During this time, she has had the privilege of assisting many clients back to health who turned to herbal medicine after allopathic medicine did not work for them.
Daniela also has a great interest in academia and was a senior lecturer in Herbal Medicine at the College of Naturopathic medicine for many years. She is on the academic board of The American School of Natural Health, a member of The American Herbalists Guild, and The College of Practitioners of Phytotherapy. Over the years, she has been cited by many journalists on the subject of herbal medicine in publications such as The New York Post and Vogue. She has also advised companies ranging from multinationals to small organizations on how to harness the power of herbal medicine. She is passionate about her subject, but even more passionate about helping her clients.
Learn more about Rahav Wellness' Medical Herbalism Services.