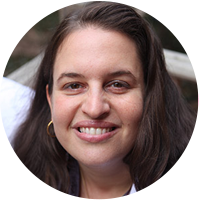 Miriam Rahav, M.D.
Founder • Medical Director • Functional Medicine Physician
Miriam Rahav, M.D. is a dual board certified physician in the fields of internal medicine and hospice and palliative medicine. Dr. Rahav also has many years of training and clinical experience in integrative medicine and functional medicine.
Her integrative medicine training started in the field, working for three years in rural Thai communities of humans living with HIV/AIDS. She was a recipient of the prestigious Fulbright scholarship for her public health research in the integration of allopathic and traditional healing modalities in the care of people living with HIV/AIDS. She then went on to train at The Medical School for International Health (MSIH) a medical school based out of Ben Gurion University, in Southern Israel. There she studied medicine with a focus on epidemiology, community health, and serving underserved populations around the world.
Dr. Rahav completed her training in internal medicine at Montefiore Medical Center, the teaching hospital for the Albert Einstein College of Medicine. Her fellowship training was at New York University Medical center.
She currently practices medicine in New York City where she is the founder and owner of Rahav Wellness, The Center for Collaborative Healing. Her practice represents a groundbreaking model for collaborative healthcare delivery, where her multi-disciplinary team take the greatest innovations in functional medicine and healing across the spectrum of the healing arts, and make them accessible to as many people as possible in one single location.