We at Rahav Wellness are excited to announce that Dr. Miriam Rahav was inducted into the Gold Humanism Honor Society. This Society was founded by Arnold P. Gold as a way of honoring medical students, residents and physicians who demonstrate exceptional quality of clinical care, leadership, compassion and dedication to service. Dr. Rahav served on the Honor Society's planning committee for almost two years preceding her induction. She was nominated by fellow planning committee members who recognized her devotedness to the medical field and helping her patients. Dr. Rahav was asked to recite the following words at the induction ceremony: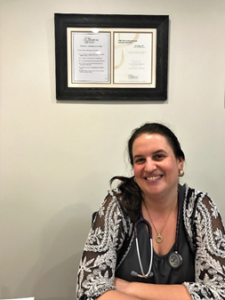 I pledge by all that I hold dear as a Physician:
I will Care for my patients with Compassion, Respect, Empathy, Integrity and Clinical Excellence
I will Listen to my patients with my whole being
I will Advocate for each patient as a unique individual
I will Serve as a role model and mentor to promote humanism in healthcare
I will Remember always the healing power of acts of caring
I will Dedicate myself to joining with others to make healthcare optimal for all
These are the values that Dr. Rahav practices medicine by, and we are so proud to work under Dr. Rahav's leadership. Congratulations Dr. Rahav, here's to many more honors throughout your career!